Well hello there beautiful people!
My name is Cassandra, and I assume that you're here because, like me, you love everything and anything to do with retro pinup. I've always had a fixation with the 1950s and the glitz and glam of old Hollywood. In fact, when I was thirteen years old I actually dressed as Grace Kelly's character, Lisa Fremont, from Alfred Hitchcock's Rear Window for Halloween. Yes, really. However, I didn't truly start showing the world my pinup side until early 2017. Despite my everlasting awe of the 1950s, it wasn't until I discovered the lovely pinup community that I knew I wasn't alone. The pinup community first revealed itself to me through an incredibly kind and gorgeous lady named Loni Catherine (Instagram: @lonicatherinec). Loni has this incredibly amazing way of making pinup/retro fashion look completely natural in modern society. It is most likely due to her confidence in her look, but her gorgeous closet probably helps too. Through Loni's social media, I was able to discover a whole magical world of pinup shops (which I'll talk about in a later post), and more gorgeous gals with a shared love for all things vintage. There are HUNDREDS of Instagram accounts dedicated to pinup fashion, and the owners range from elderly ladies who are still rockin' it, to professional pinup models, to girls who are just starting to join the community.
I stepped out in pinup for the first time in public on April 22nd, 2017. I live in Los Angeles so people are used to crazies, but I swear people looked at me like I was foaming at the mouth. At first it made me extremely self conscious, but then I remembered Loni Catherine and her seemingly effortless confidence in her style. As the day progressed I learned how to take the weird looks as a compliment, and not worry too much about people's judgement. This brings me to the first half of what this blog is going to be about: beauty and confidence. Together we'll dive into what types of clothing make you happiest, and how you can do your best to ignore the judgments of others, all the while feeling better and happier with yourself.
The second half of this blog will be focused on more of the pinup side of things. I know a lot of vintage gals who love love love their dresses, but personally I don't mind wearing a t-shirt and jeans part of the time. However, I have a few tricks up my sleeve that help me put a retro twist on a regular modern outfit. In this blog I'll explain my techniques on how to sprinkle pinup into your life while still having time to wear sweats. Of course, that will include lists of all of my favorite Pinup brands, hair & makeup tutorials, and all my little tips and tricks on building a social media platform for your pinup style. I can't wait to start! And please, if you have any questions feel free to reach out. You can find me on Instagram @cassandrabriskman
Kisses & Kindness
XO
Cassandra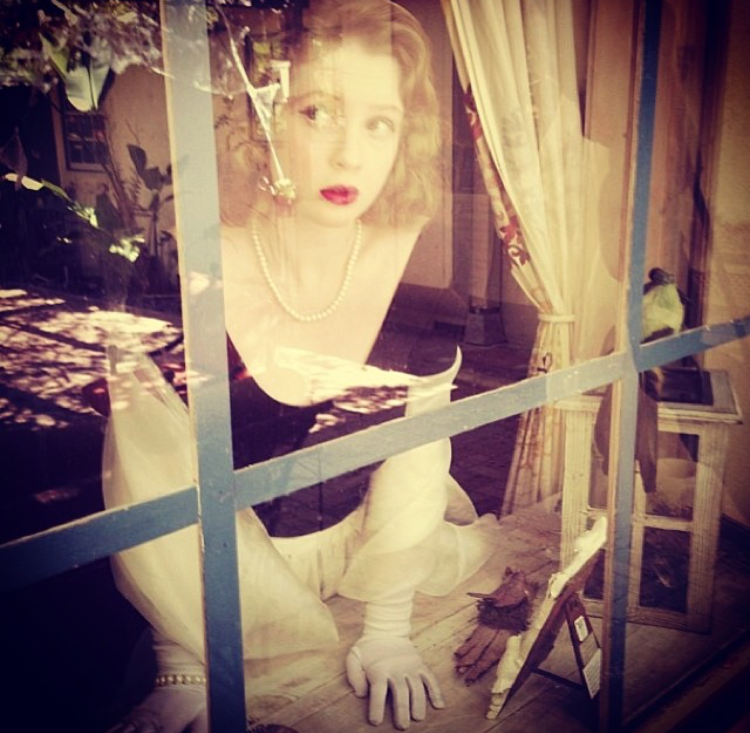 Me at thirteen as Grace Kelly in Rear Window...